OHL hockey returns to the Garden City
Created: Sep 28, 2007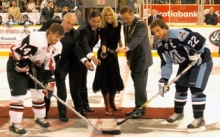 By Brad Young
The Ontario Hockey League made its triumphant return to the Garden City this past Friday with the new look Niagara IceDogs squaring off against the Mississauga St. Michael's Majors, in front of an electric capacity crowd of 3,145.
Prior to the start of the game, the Niagara IceDogs held a ceremony where they announced that the Jack Gatecliff Arena would now be named the Gatorade Garden City Complex. Taking part in the ceremony and the official puck drop was OHL Commissioner, David Branch.
"It was a wonderful experience to be involved in the festivities here tonight," said Branch. "St Catherines and the Niagara region are areas rich in hockey history and tradition with the St. Catherines Tee Pees winning two Memorial Cups here in 1954 and 1960."
The IceDogs didn't disappoint their boisterous new fans as they skated to a 4-1 victory over the Majors.
Stefan Legein
, who will surely be a fan favourite in St. Catherines this season, led the way offensively for the IceDogs scoring two goals and one assist for three points while capturing the first star honours. Legein was selected by the Columbus Blue Jackets in the 2nd round of the 2007 NHL Entry Draft and played a pivotal role for Team Canada at the recent Super Series.
Joining Legein at last seasons NHL Entry Draft was IceDogs defenceman
Drew Schiestel
, who was a 2nd round selection of the Buffalo Sabres, along with forward Luca Caputi, who was selected in the 4th round to the Pittsburgh Penguins.
The IceDogs are chalked full of talent this year and will likely turn some heads in the Central Division and the Eastern Conference with their explosive, always attack style of play.
The IceDogs have a healthy mix of talented players at all positions starting from the back end out. Goaltender
Andrew Loverock
is entering his second with the IceDogs and is expected to have a productive season. Loverock recently returned from the Montreal Canadiens training camp where he was an invite.
Helping Schiestel on the back end will be veteran defenceman
Joshua Day
and alternate captain
Alex Pietrangelo
. Pietrangelo is slated as an early first round selection in this year's NHL Entry Draft.
Assisting Legein and Caputi up front will be veteran forward and captain of the IceDogs,
Michael Swift
. Swift is entering his fourth season with the IceDogs and has consistently delivered on the score sheet while playing a strong defensive roll when called upon. Swift finished 11th in scoring last season with 34 goals and 59 assists for 93 points. Swift has proven he can handle the physicality of the OHL having only missed five regular season games in his previous three seasons.
The Niagara IceDogs are sure to entertain and excite their new fans this season, as well as many years to come.